MacRumors iPhone Blog
App developers Geoff Teehan and his team
created
this high resolution Photoshop file to help them when mocking up ideas for app designs. The file includes full-resolution elements of buttons, keyboards, and all the other user interface elements that are available to iOS developers. Instead of keeping the file for themselves -- which would be understandable -- Teehan
decided to share it
with the larger development community. The team has previously other versions of the file, as well, including
one for the iPhone 4S
.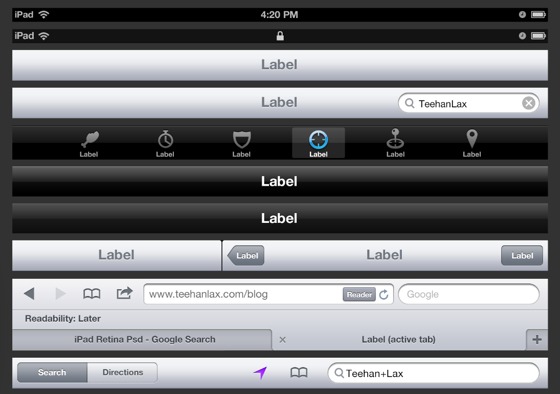 In 2008 we released our first iOS PSD. We continue to do it, not only because we find useful, but because we think a lot of other designers do too. In fact, over the past four years they've been downloaded millions of times. It's become our little thank you to an industry that has given us so much. We're really proud to be releasing our latest version today. It's based on iOS 5.1 and includes hundreds of retina assets available natively on the platform. In addition to the GUI assets, you'll find perfectly scaled 'New' iPads to help you create the apps we'll come to love in the future.
The file is 35.71MB, designed for Photoshop CS6. The iPad GUI PSD (Retina Display) can be
downloaded from Teehan+Lax's blog
.
Sent from my iPhone