Digital Art Revolution, Creating Fine Art with Photoshop is not a book that teaches readers to process photos in order to mimic various styles from art history. This is a book that familiarizes the reader with the fundaments of visual communication and self-expression and then shows them how to apply these principals to digital art. It demonstrates the expansive and revolutionary possibilities inherent in the medium and guides the reader towards utilizing these possibilities to develop their own unique voice as an artist... (posted by Jennifer Apple for
www.PhotoshopSupport.com
)
Digital Art Revolution: Creating Fine Art with Photoshop
November 16, 2010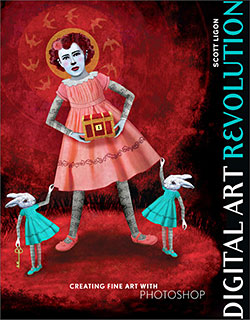 Digital art functions as a revolutionary tool that integrates with virtually every medium even while it obliterates the boundaries and definitions of mediums. Digital Art also functions as a medium, in and of itself, with its own unique and inherent qualities. Digital technology also gives us unprecedented opportunities for the dissemination of ideas and creative work.
Digital Art Revolution, Creating Fine Art with Photoshop
explores a small but significant portion of the revolution: creating digital fine art in Photoshop.
Digital Art Revolution, Creating Fine Art with Photoshop
is written by digital artist and filmmaker Scott Ligon. The book is published by Watson-Guptill, a subsidiary of Random House, the premier publisher in books. The international release date for the book is March 9, 2010. The book features work from some of the most successful and innovative digital artists working today, including Bradley Wester, Stephen John Phillips, Viktor Koen, Davida Kidd, Steven Vote, John Jost and Mark Mothersbaugh (who is also a film composer and singer for Devo).
Digital Art Revolution, Creating Fine Art with Photoshop
is not a book that teaches readers to process photos in order to mimic various styles from art history. This is a book that familiarizes the reader with the fundaments of visual communication and self-expression and then shows them how to apply these principals to digital art. It demonstrates the expansive and revolutionary possibilities inherent in the medium and guides the reader towards utilizing these possibilities to develop their own unique voice as an artist. Rather than imitating art history and the great, unique artists that made it, it is a book that encourages artists to explore the possibilities of digital art and make art history. The book offers "how", but just as importantly, it offers "why". All instruction is placed within the larger context of understanding the visual language and using it for expressive purposes. It is quite possible to use Photoshop and a drawing tablet to paint in a manner that closely approximates traditional painting in both method and result. Photoshop is also, of course, an amazing photo-editing program, capable of manipulating photographic material in endless ways, with great efficiency. Many programs do one or the other. It is the ability to draw, paint, manipulate photos and other materials, and most importantly, combine them into something new and cohesive, which makes Photoshop the ideal choice for this book.
About Scott Ligon, "Digital Art Revolution" Author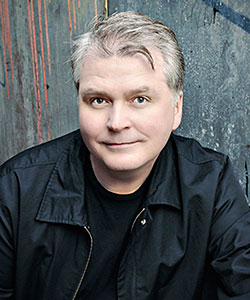 Scott Ligon is a digital artist and filmmaker. His work is frequently exhibited and has won several awards. Two years ago he relocated from his native Virginia to Cleveland, Ohio, in order to accept a job as the coordinator for the digital foundation curriculum at the Cleveland Institute of Art. He received his MFA from the Maryland Institute College of Art where he studied under renowned original abstract expressionist Grace Hartigan and attended "Perspectives on Criticism" classes taught by Robert Storr, formerly senior curator of painting and sculpture at New York's Museum of Modern Art. Early in his career, Scott made a living as a graphic designer and illustrator for ad agencies around the Washington DC area. This enabled Scott to learn digital art software. Scott utilized his perspective as a painter to explore the expansive possibilities of digital technology as an art-making tool. His animated short film, "Escape Velocity", painted in the style of his digital paintings, has played in festivals and theaters all over the world, including screenings in Moscow, London, Toronto and San Francisco.